CheapOair Travel Contests

Everyone deserves a free trip now and then! You could be our next winner! Every month brings a new contest so check back frequently and enter today!
Closed
CheapOair's APP-solute Getaway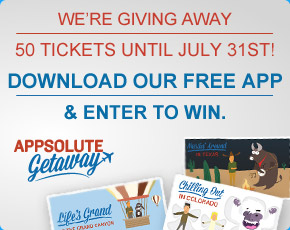 From now through July 31st, we're giving away 50 tickets to ANYWHERE in the continental U.S.! Download the FREE CheapOair app and enter for a chance to win.
Closed
COA Selfie Contest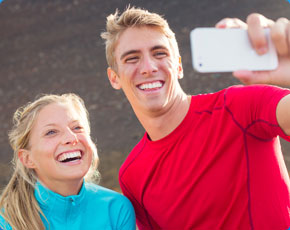 We're inviting our photogenic friends (like you) to snap a celebrity-inspired selfie for a chance to win a trip to NYC! To enter, simply upload your star-studded photo to Instagram with the hashtag #COASelfie.
Closed
MexiGo to Mexico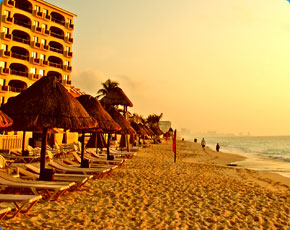 Follow us on Pinterest and re-pin one of our mobile graphics for a chance to win a trip to Mexico!
Closed
Tai-Win a Trip to Taiwan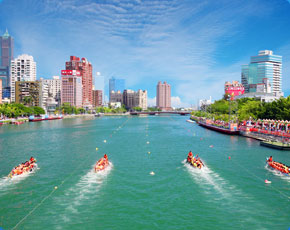 Submit your email and 'Like' CheapOair on Facebook for a chance to win a 7-day, 6-night tour of Taiwan!
Closed
The Himalaya Getaway-a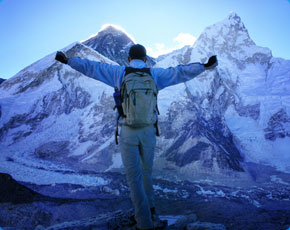 Enter your email for chance to win a trip to Kathmandu, Nepal on Qatar Airways. The winner will receive two tickets on Qatar Airways.
Closed
Win a Trip to Mexico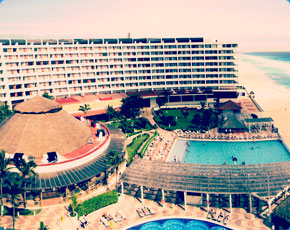 RETWEET to Win: Follow @CheapOair for a chance to win @AeroMexico_com tix and a @CrownParadise stay. #MexicoGetaway
Closed
Win a Family Trip to Orlando!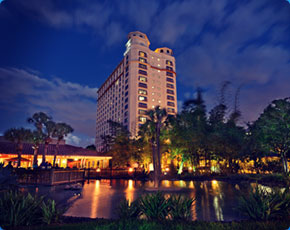 'Like us' on Facebook for a chance to Win a Family Trip to Orlando! The winner will get four tickets from Spirit Airlines along with a stay at the DoubleTree by Hilton Orlando at SeaWorld for 4 nights (covers a family of 4).
Closed
Paris Giveaway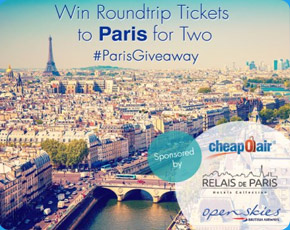 CheapOair is giving away two roundtrip tickets to the City of Lights on OpenSkies by British Airways. To enter, "Like" CheapOair on Facebook and visit the Win a Trip to Paris tab from Monday, July 1 at 11 a.m. (EST) to Monday, July 15, 2013 at 12 a.m. (EST). Must be 18 or older to enter.
Closed
Finding Orlando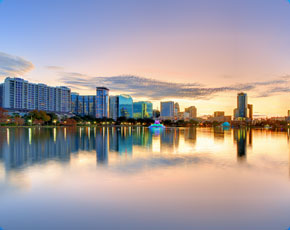 Having trouble finding time for a family vacation? Enter Finding Orlando! Submit a :30 second video as to why your family deserves one.
Closed
Sin City Madness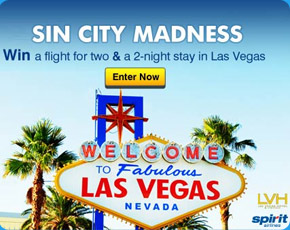 Leading travel website CheapOair announced today its latest Facebook contest, 'Sin City Madness', which will give fans the opportunity to win a trip for two to Las Vegas. The contest asks fans of CheapOair's Facebook page to take their best guess at the final scores of the annual NCAA college basketball tournament.
Closed
Thank You for Being a Fan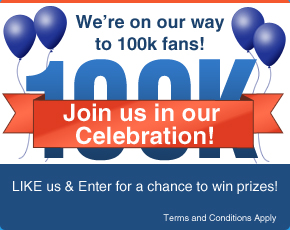 We are closing in on 100,000 Facebook Likes and we are celebrating! To thank you all for being such loyal friends of CheapOair, we are giving away travel money! 'Thank You for Being a Fan' is what it is called, the prize, a $100 CheapOair gift certificate, 15 of them!
Closed
March to a Million Sweepstakes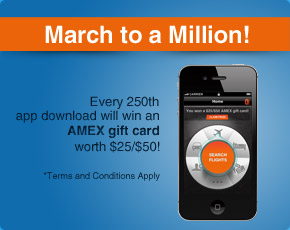 As CheapOair nears one million app downloads, we celebrate the holiday spirit with gifts for our loyal customers. From December 12, 2012 to January 12, 2013, customers that download CheapOair`s mobile apps will be automatically entered to win a prize: Amex gift cards with a $25 and $50 value for every 250th and 500th app download, respectively.
Closed
Give the Gift of Travel Contest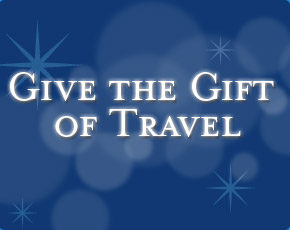 CheapOair`s getting into the holiday spirit this December with CheapOair`s Gift of Travel. We`re giving away two tickets on Qatar Airways for one lucky winner that will be selected at random! It`s a 14-day contest where all you have to do to enter is LIKE CheapOair on Facebook and submit an email address.
Closed
Traveler of the Year Contest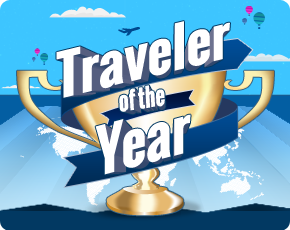 The Traveler of the Year Competition is a five-month contest featuring two seasoned travelers who will go head-to-head showing the online travel community how to experience the world's most popular and exotic destinations, even on a limited budget. Prizes include a 30-day trip to India or China, $7500 in expenses, and a grand prize of $5000 and CheapOair's Traveler of the Year Feature Blogger of 2012.
Closed
Jungle to Jungle Contest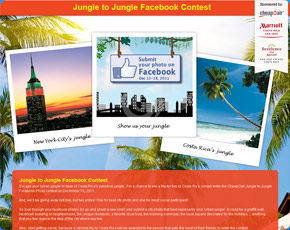 Escape your 'urban jungle' in favor of Costa Rica's paradise jungle. For a chance to win a trip for two to Costa Rica, simply enter the CheapOair Jungle to Jungle Facebook Photo contest
Closed
Pick Your Portugal Prize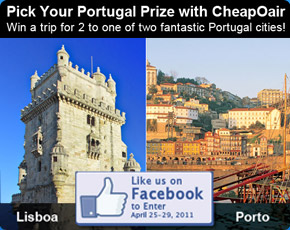 When putting together our latest CheapOair promotion to Portugal, we just could not decide on what city to send the winner to. Sooo, we're letting them pick their own prize! That's right, one lucky individual (and someone they 'like') will have two prizes to choose from if they are the big winner!
Closed
Crazy in Love with CheapOair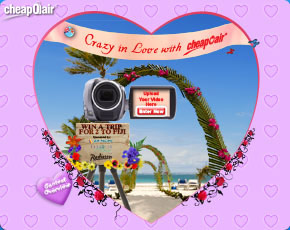 Are you crazy in love and ready for a romantic getaway with your sweetheart? CheapOair wants to play cupid this year! We're giving away two roundtrip tickets to Fiji, courtesy of Air Pacific, and a 5-night stay at the 5-star Radisson Resort Fiji Denarau Island for the couple who submits the most interesting, fun and creative video to us. Uploading is extremely easy and you'll be automatically entered once it is submitted.
Closed
12 Days of Travel 2010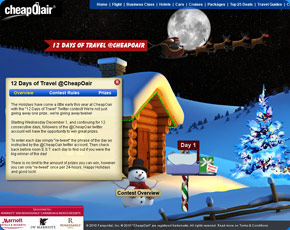 CheapOair and Marriott and Renaissance Caribbean & Mexico Resorts (MARCAM) are playing Santa this year and delivering sand and sunshine to a holiday village near you with the second annual 12 Days of Travel! For 12 consecutive days (Dec 1-12) you'll have a chance to win tropical hotel stays and airfare gift certificates via the CheapOair travel blog, Twitter & Facebook.
Closed
Pick Your Trip Contests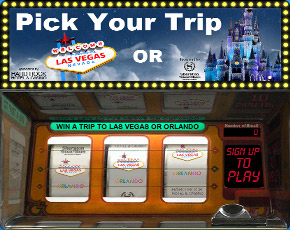 What's better than winning a free trip? Choosing where you go! Enter now and you could win an unforgettable mini-vacation for 2 – on us! Your whole getaway all on our bill! You'll fly AirTran Airways to either Las Vegas or Orlando – it's your choice! Live like a rock star and stay at the Hard Rock Café Hotel and Casino, or the Sheraton Vistana in Orlando. It's totally up to you.
Closed
Montréal Contest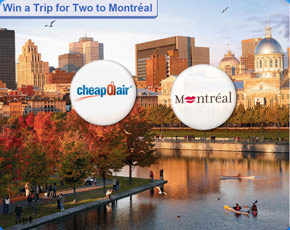 Home to hundreds of vibrant festivals, mouth-watering food, cutting-edge culture, award-winning design, thriving nightlife and eclectic fashion, Montréal is by far one of the most fascinating urban cultures in the world. Laid back and sophisticated, this Latin city is the epitome of European joie de vivre and North American appeal. Now guess what? We want to send you there! CheapOair, in partnership with Tourism Montréal, Air Canada and Montréal Marriott Château Champlain, is giving you and a friend a chance to win a trip to beautiful Montréal!
Closed
South Africa Contest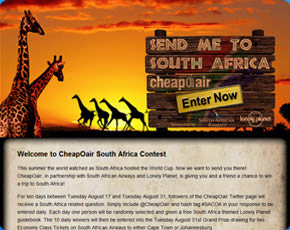 Warren Robinson of Arlington, Virginia
As someone who travels regularly, I am constantly looking for websites that save me money on airfare and hotels. CheapOair has become one of my go-to sources for travel deals. I entered the South Africa contest and was shocked to discover I was a winner on the first day of the contest and had scored a travel book from Lonely Planet! The day the contest winner was announced I checked the website and was floored to discover I had won the trip! I surprised my wife later that day with a print-out of the announcement. We are thrilled to experience first-hand the incredible sights and sounds, mountains and beaches, food and wine, that South Africa is known for throughout the world!
Closed
Logo Contest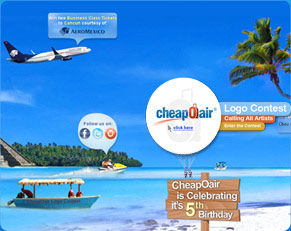 For our 5th birthday CheapOair wanted your logo ideas and you responded! We had a lot of great submissions but we could only pick one winner which we'll be announcing shortly. The winner received two (2) Business-Class roundtrip tickets to Cancun courtesy of Aero Mexico and a five-night hotel accommodation at the Cancun Omni Hotel Resort and Spa (courtesy of Omni Hotel).
Closed
Affiliate Contest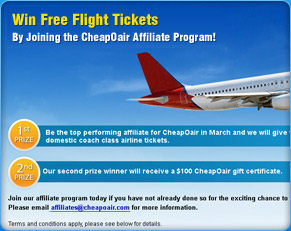 RebateGiant.com was the top performing affiliate in March for our LinkShare affiliate program and Dawn Darling for our CJ affiliate program. Both won two (2) free round-trip domestic flight tickets each. Our second prize winners of the $100 CheapOair gift certificates were ShopAtHome.com for our LinkShare affiliate program and Stone River, LLC for our CJ affiliate program. Congratulations to all our winners!
Closed
Long Weekend in London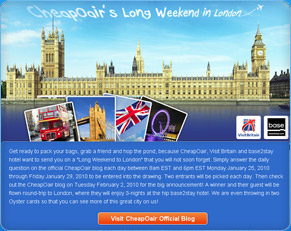 This contest closed February 3, 2010. Winner, Ella Morton, is from New York City.
Closed
12 Days of Travel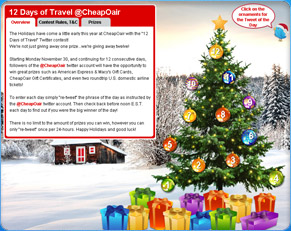 The "12 Days of Travel" Twitter contest ran from November 30th through December 11th.
Closed
Video Contests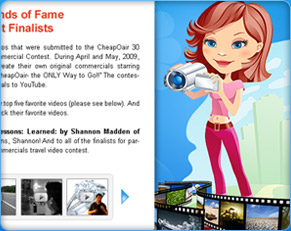 30 Seconds of Fame Commercial Video Contest, check out the winning video and the 4 semi-finalists.
Closed
Wheel of Fortune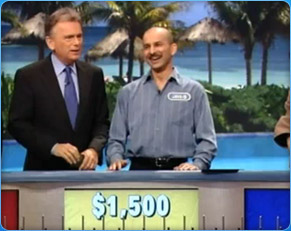 CheapOair was featured on Wheel of Fortune with a special offer for the winning contestant, a $1,500 trip to Ireland. Check out the video clip here.
Closed
Woman's World Giveaway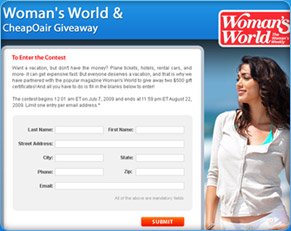 The contest is now closed. Winners were selected on August 23rd. The winners are, Christine Pfohl and Donna Clark.